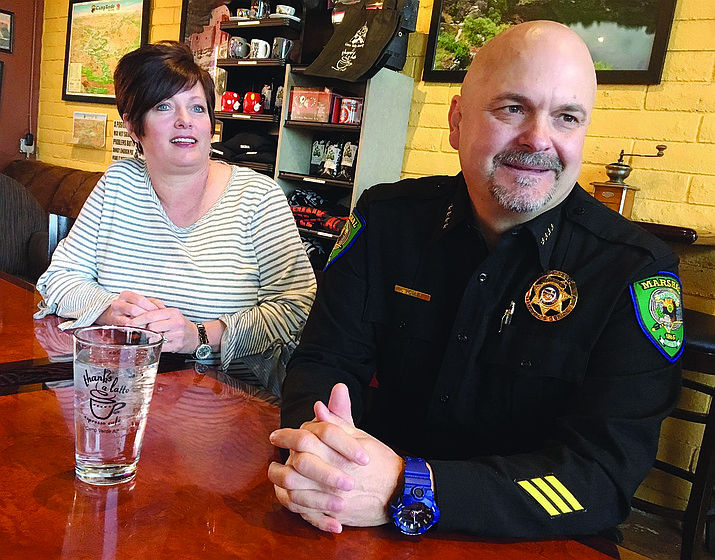 Originally Published: October 30, 2018 4:49 p.m.
CAMP VERDE – Whether or not Camp Verde expects its chief of police to live in town limits, Corey Rowley wouldn't have it any other way than to make 86322 his h-o-m-e.
That's what he told folks Monday at his first Coffee with a Cop as Camp Verde's new marshal.
"I've always lived in the community that I've worked," Rowley said. "For me, it was an easy choice. The pulse of the community, I want to know that."
Rowley – who said his name is pronounced Rawl-ee – said Monday he and his wife Nicole are "extremely blessed" to be in Camp Verde.
"It's an amazing department, and we're excited to be here" Nicole Rowley said Monday as she her husband met with Camp Verde residents at Thanks a Latte. "We're really impressed with the community. We feel really welcome."
As he leads the town's police department. Marshal Rowley said Monday that it's "well-structured, well-planned, and they're already doing the things I want to see in a police department.
"Leadership at CVMO the past 12 months, with Commander Brian Armstrong serving as interim marshal, did a "tremendous job of keeping morale up," he said.
Setting the PACE
During the interview process, Rowley offered his business plan: professionalism, accountability, community and excellence. The acronym is PACE.
"When you hire an officer, you hire them for their qualities," Rowley said. "I don't believe in micromanaging. My job is to help them get the tools they need to succeed in their job."
Setting the PACE starts at the top, though Rowley said that leadership is "not from the top down."
"I'll be there in the trenches with the team," he said.
Just on the job two weeks, the new marshal has already gone out into the community to meet with groups and to understand their needs, such as the Camp Verde Senior Center.
"With such great people, it's already been an easy transition," Rowley said.
-- Follow Bill Helm on Twitter @BillHelm42