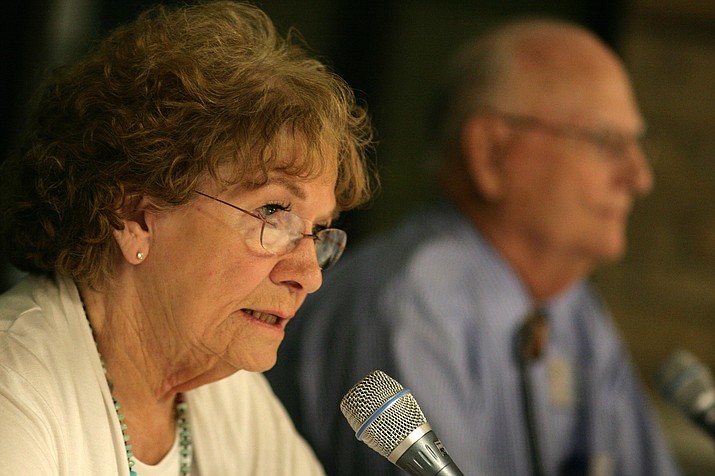 Originally Published: September 30, 2018 1:58 p.m.
CAMP VERDE – Beginning Oct. 10, permanent early voters will receive mail-in ballots so they can decide who Camp Verde's next mayor should be.
Thursday, the League of Women Voters Greater Verde Valley Chapter helped make that decision a little easier for the community's voters - both active and otherwise.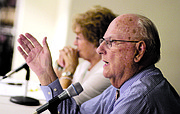 At 6:30 p.m., Charlie German and Jackie Baker introduced themselves, then answered 90 minutes worth of questions.
With 17-plus years under her belt on Camp Verde's Town Council, this is Baker's first endeavor for the Town's mayorship. For German, who wants to be Camp Verde's mayor for the third consecutive term, the forum was another opportunity to share similarities and differences between him and his challenger.
According to Robyn Prud'homme-Bauer, moderator for the forum, Camp Verdeans submitted questions that were "thoughtful and covered a wide range of topics including how the council should operate, how the mayor would lead, and how they supported or not different community issues and activities."
Prud'homme-Bauer also said that both German and Baker were "also thoughtful and straightforward in how they lead the council, work on important community issues and activities."
"They both represent Camp Verde well," Prud'homme-Bauer said. 
Had either German or Baker won the Aug. 28 primary election, the forum would not have been necessary. On Aug. 28, German received almost 6 percent more votes than Baker, with neither meeting the necessary threshold to win the election outright.
With 2,428 mayoral votes counted, German received 1,210 votes to Baker's 1,071. Official write-in candidate Alex Goetting received 147 votes.
The following are some of the questions - and answers - from Thursday's mayoral forum at the Camp Verde Community Library's Fireside Room.
Q: Why do you want to be Camp Verde's mayor?
German: "To implement the vision and plan for the future of Camp Verde as presented through our voter-adopted documents, and carefully consider other proposals which might be presented by various individuals, neighborhoods and organizations. I pledge to continue to budget to maximize our opportunities while carefully planning for emergencies."
Baker: "I want to work with our council team to simplify our development process and eliminate needless regulations. Also encourage business development that serves our citizens' needs and brings new revenues to our town. And perhaps most important, make town government responsible to our citizens."
Q: What is the role of the mayor?
German: "Some people think that the mayor has super powers. And that's the furthest thing from the truth. With the mayor and council, we have seven different supervisors for one manager. We don;t always agree, but once a decision is made, we move onto the next thing."
Baker: "I am one member of a great team. Fortunate enough to establish great relationships with other council members across the Verde Valley as well as across the state of Arizona."
Q: What needs to happen for taxes to be reduced?
Baker: "I did not vote for the last sales tax increase. Establish an agenda for that, make that a more fair system for all of us. My way of addressing those issues is to live within your budget."
German: "A vote by council [is what it would take to reduce taxes]. The lat time I voted, I voted for the increase. Because I am sick and tired of watching Camp Verde on the edge of what other communities enjoy."
Q: How did you vote on the budget - and why?
German: "I voted in favor."
Baker: "I voted no. And I have been chastised for that. I had real problems with a number of things. So this year, I voted no."
Q: Do you believe it is your responsibility as mayor to do the right thing even if the right thing is not the popular thing?
German: "Well, go back to raising the sales tax. The downside would have been detrimental."
Baker: "I approach it always, what do I believe? You cannot always make it easy for everyone. Encourage, listen to the citizens in your town."
Q: When do council members discuss a meeting's agenda items?
German: "We receive the packet either Thursday or Friday before the [following Wednesday's] meeting. So you can come well prepared to discuss the items."
Baker: "My preference is to have ask the discussions there. I prefer to ask my questions in the meeting so that discussion is in the public venue."
Q: What do you say about the perception that Town staff is not friendly or not helpful?
Baker: "Maybe we can establish an evaluation/opinion card. Evaluate the service they receive. So that input comes back to the department head. We are here to serve the citizens of Camp Verde."
German: "We are in a service business. If that means staff training, I'd be in favor of this."
Q: Are you in favor of a rodeo arena in Camp Verde?
Baker: "We're rural, western. I've been in support of that for a long time. It's a family thing. The revenue that will come to our town, with a such a wonderful location."
German: "I'm in favor of that. There's the potential for quality of lifestyle for the children in our community. But I want to see a little research. in other places, it's been a bit of a money pit. I have no problem with it. But I'd like to study it out."
Q: Do you support the building of the Camp Verde Sports Complex?
German: "I do. When we incorporated, there were three things we wanted: improved roads, better police protection and ball fields for our children."
Baker: "I did support building it, getting that started."
Q: What would you do to bring back Cornfest?
Baker: "Round up the volunteers, buy a batch of corn and get started. I think we'd have plenty of people who'd help with that."
German: "I'd encourage people who want it back to volunteer in two-hour time blocks."
Q: As mayor, what would you do to make sure we don't lose our three main events [Pecan and Wine Festival, Cornfest and Fort Verde Days]?
German: "If these events are important, not just as a spectator, we should be involved. Your community is only as good as your participation."
Baker: "We should reinstall, or re-setup our commissions. We've got to round up volunteers. And we can do it."