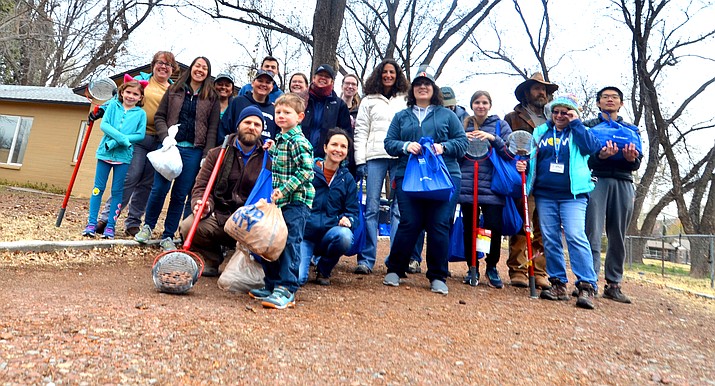 Originally Published: February 12, 2019 10:52 a.m.
Men, women and children dressed in fall clothing combed through leaves resembling an Easter egg hunt.
But their focus was not eggs, but a black, dark, prehistoric looking nut.
The 20 volunteers were harvesting pecans Saturday in the Franquero neighborhood in Cottonwood for the Yavapai County Community Health Services.
This older, tucked-away neighborhood in Cottonwood has many pecan trees because of the irrigation ditches running through it, explained Nancy Gottschalk, health policy manager/health educator for YCCHS.
Gottschalk mapped out the pecan trees in the area and sent letters to the landowners who volunteered their pecans to Yavapai County Health Services, she said.
Saturday, the volunteers picked up 194 pounds of pecans in plastic bags, which will be distributed by Manzanita Outreach. Gottschalk said she still has four more large bags of pecans mixed with leaves that she has to sort through that a landscaper turned in.
Gottschalk said Manzanita runs mobile food pantries in the Cottonwood area and the pecans will be going to local residents in need.
This is their first effort in working with local fruit tree owners, but Gottschalk hoped that she could do similar projects with different orchard owners during other seasons – where volunteers would be pick off fruit from trees that would otherwise go to waste.