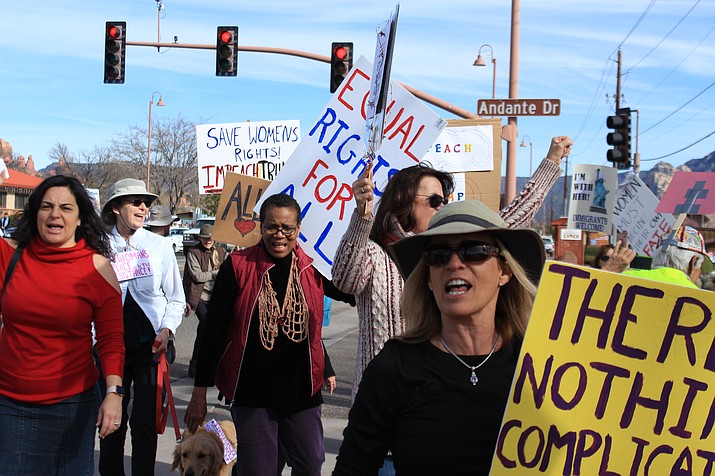 Originally Published: January 20, 2019 12:25 a.m.
Updated as of Tuesday, January 22, 2019 10:39 AM
SEDONA -- An estimated 500 Sedona and Verde Valley citizens turned out to the third annual Sedona Women's March Saturday, Jan. 19.
As they took the streets, they chanted, "this is what democracy looks like," and "women's rights are human rights."
Cars honked in support of marchers as they walked along State Route 89A.
A couple drivers also heckled marchers. One man yelled, "Donald Trump is our President."
Most laughed. One marcher responded, "Yeah, you can have him."

Participants met at the National Bank of Arizona in Sedona and marched about a mile to Vino Di Sedona where organizers hosted a rally.
The first women's march in 2017 was a worldwide demonstration that occurred the day after the inauguration of President Donald Trump.
According to Kathy Kinsella, one of the local organizers of the march, the 2016 election was a motivator for women to get active and "stand up for themselves."
Kinsella said although everyone who has been involved in organizing the march has a different background, they all share a vision of brining the community together – becoming one voice.
One of the marchers, Jessi Vanhorn said she was there for every woman who has ever felt "less than."
"For every person who has felt less than … I'm here to fight side by side with these beautiful people for more equality and love and acceptance," she said.
ILLUMINATE Acts of Courage Campaign Director Carol Myers said she was at the march because she believes in women's empowerment.
"The purpose of (Acts of Courage) is to help all of us identify acts we have taken on behalf of girls and women," she said.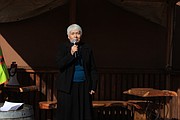 Sedona Mayor Sandy Moriarty was a speaker at the rally at Vino Di Sedona.
"It really is in some ways a good thing what happened in 2016," she said. "Because I don't think we'd all be here if it hadn't frankly … there's always good and bad to everything and the good part about is that it got all of us out and realized what we need to do and it really is important that women get involved."
Deborah Rossum, another member of ILLUMINATE said she has been an activist since she was a kid.
"I'm about to turn 64 so I was on the frontline – the ground floor – during ERA empowerment and passage," she said. "So this is a lot of energy. It's very familiar but also fresh."
More like this story