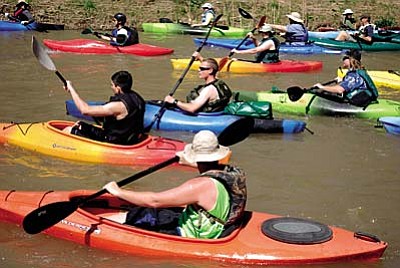 Verde River Canoe ChallengeMarch 26The 11th annual Verde River Canoe Challenge will take place at 10 a.m. The ten-mile canoe/kayak race will begin at White Bridge Park (Verde River and Rte. 260) and end at Beasley Flats Recreation Area. A free shuttle service will be provided between Beasley Flats and White Bridge Park.There will be both men's and women's Competitive and Recreational Event Categories. Trophies will be given to the first and second place winners in each category.Online Registration deadline is March 16. The entry fee is $20 per adult and $15 per child. Fee includes Verde River Canoe Challenge t-shirt and one-day participant insurance. Register online at www.active.com. No day of race registration. Participant check-in is located at the White Bridge Park between 7:30 and 9:30 a.m. For more information contact: Charles Hammersley, NAU Parks and Recreation Department, Phone: (928) 523-6655, e-mail: charles.hammersley@nau.edu.
Stories this photo appears in:

County Spelling Bee in SedonaFeb. 16The annual Yavapai County Spelling Bee will be at Sedona Red Rock High School Performing Arts Center.Check for more listings!