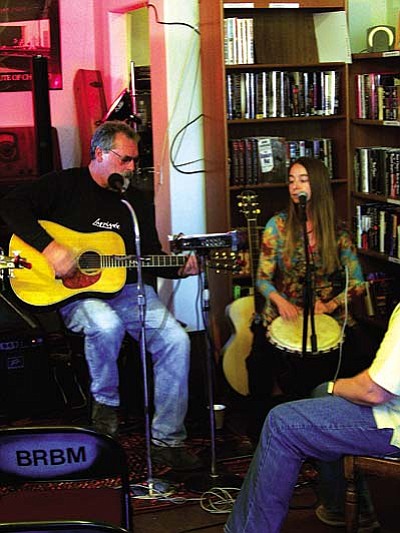 Bent River Books and Music features event-filled weekend  This weekend features music, an author talk plus a fun dog-friendly event in the middle of Old Town Cottonwood. Beginning Friday evening Bent River Books presents alt-country artist Robin Dean Salmon. Robin has recently moved to the Verde Valley after fronting two bands: See No Evil and Christopher Robin. It is while he was with See No Evil that Robin secured a deal with Epic records that led to two national releases. For his latest alt-country release, "Gasoline," recorded in Nashville, Robin was able to work with one of his idols, Rodney Crowell, who collaborated on one of the album's songs. Robin now tours the local Arizona scene with his acoustic show and will play on the new Bent River stage for the first time this Friday.During the day on Saturday at 11 a.m. you can get your dog's portrait taken for Christmas. Nick of Time Productions and Bent River Books are hosting this event to benefit the Greyhound Pets of Arizona which is dedicated to helping offset medical costs of caring for retired racing Greyhounds. All proceeds from this event go directly to Greyhound Pets of Az. Nick will be setting up his studio inside Bent River Books and, for a suggested donation of $5-$10, you will receive a professional quality 4x6 print and an option to order more products. Refreshments will be served as well.The Saturday fun continues at 6 p.m. as Mike McReynolds and Friends take the stage at the popular local venue. Mike and friends are an extremely accomplished group featuring beautiful folk harmonies. They are quite popular in the valley and sing a diverse mix of folk and popular songs. This show typically draws an enthusiastic crowd so get there early.On Sunday Bent River is hosting a talk at 1:30 p.m. by local author Barb Hahn, aka "Barclay Franklin." Barb will read from her books and be available for signings and questions. Her books will be available plus Barb is always eager to provide advice to new authors on getting published so new authors are encouraged to come and ask questions.The events at Bent River are free and refreshments are provided. Please call (928) 634-8332 for more information. Bent River Books & Music is open 10 a.m. to 6 p.m. Monday through Thursday, 10 a.m. to 8 p.m. Friday and Saturday and noon to 5 p.m. Sundays. If You Go ....• Friday - 6-8 p.m., music with Robin Dean Salmon• Saturday - 11 a.m. to 2 p.m., Dog Portraits• Saturday - 6-8 p.m., music with Mike McReynolds and Friends• Sunday - 1:30 p.m.,author talk with Barb Hahn, aka 'Barclay Franklin'
Stories this photo appears in:
Need Thanksgiving Pie?Nov. 23Support the Camp Verde United Christian School at their annual Pie Sale on Wednesday from 8 a.m. to 1 p.m.Check for more listings!