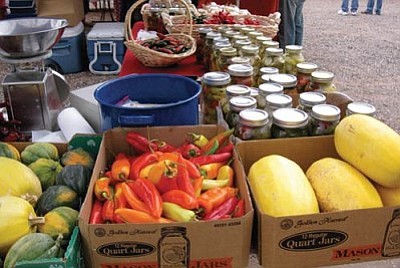 Although fresh produce sold at farmer's markets in Yavapai County draws an exemption from most fees and regulations, once it is processed in any fashion a whole new set of rules, regulations and fees come into play, many of which local growers and food processors would love to see changed.
Stories this photo appears in:
Regulations and sauer-ed relationships in homegrown foods
Like all great revolutions, this one began over something so seemingly trivial as a barrel of sauerkraut. In this case it was the old-fashioned, naturally fermented kind -- the kind that needs no pasteurization or refrigeration. Health departments, at least those in Arizona, do not see it as a product that is fit for human consumption -- at least not without government oversight and no small expense for permits and inspections.