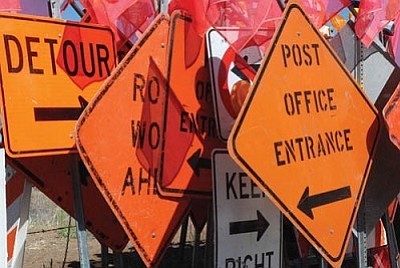 VVN/Steve Ayers
The need to make changes to the storm water drainage on Finnie Flat Road is a direct result of runoff from the Views and Cliffs subdivisions. However, the developer of the subdivision was never required to chip in.
Stories this photo appears in:

Over the next few months, a contractor hired by the Town of Camp Verde, being paid by a generous contribution from the Yavapai County Flood Control district, is fixing a problem the public did not create.The Finnie Flat Drainage Project, currently disrupting traffic in front of the post office, is a $1 million fix, necessary because water running off rooftops and paved roadways in the Views and Cliffs subdivisions now overwhelms the Town's existing drainage system during heavy rains.