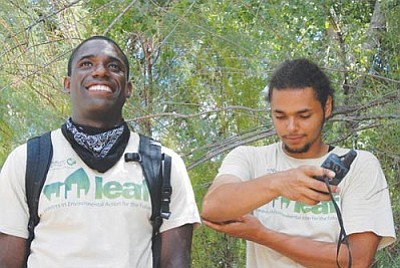 VVN/Steve Ayers
Like their predecessors, a group of four girls who came to the Verde from New York City last year, Brooklyn teacher Charles Holiday and New Haven, Conn., high school student Lavaughn Price Jr. left with a completely different view of Arizona and the Verde Valley than the one they came with.
Stories this photo appears in:

When you are trying to save the world, you take help when you can get it.And saving fragile landscapes, such as those surrounding desert streams, need all the help they can get. That is the reason groups working on projects to save the Verde River have been so grateful over the last couple of years for the work provide by participants of the LEAF Program.