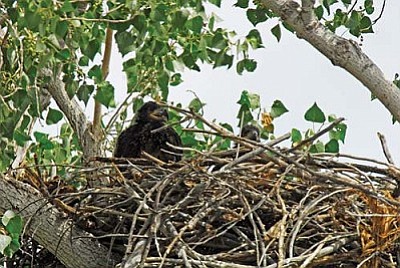 Eagle nests can weigh as much as one ton after years of occupation. But in spite of their size they still remain fragile footholds for young birds, as witnessed by numerous deaths every year from depredation, infestation and fire.
Stories this photo appears in:
Artificial nests prove valuable tool in survival
A breeding pair of Sonoran desert nesting bald eagles living in one of the cliff side breeding areas on the Verde River can, over time, build a nest 15 feet thick and up to seven feet in diameter.