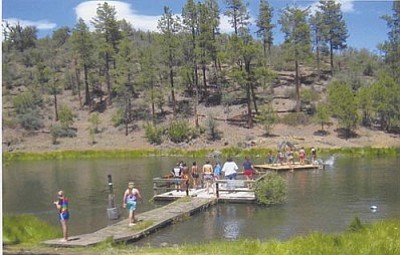 Courtesy photo
The Harold and Mitzie James 4-H Learning Center at Mingus Springs has facilities to house 100 campers at a time and includes a kitchen, dining hall, cabins and a two-acre pond.
Stories this photo appears in:
Anyone who has been to the top of Mingus Mountain has seen the signs to Mingus Springs Camp. But that doesn't necessarily mean we know what it is all about.Sometime in the late 1890s several prospectors patented a string of 25 claims that included 500 acres stretching down Ash Creek from atop Mingus Mountain.