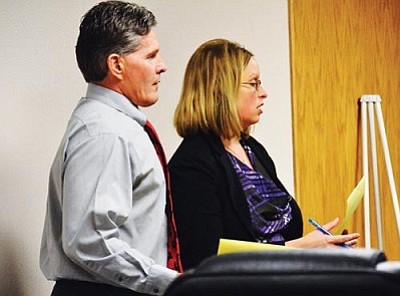 VVN/Jon Pelletier
Former Mingus teacher and wrestling coach Tom Wokasch appeared with his attorney before Verde Valley Justice of the Peace Bill Lundy Tuesday morning. Lundy transfered the case to Yavapai County Superior Court. The allegations against Wokasch and his wife, fraudulent schemes and theft, are Class 2 and Class 3 felonies.
Stories this photo appears in:
Tom and Laura Wokasch appeared briefly in Verde Valley Justice Court Tuesday morning for their first appearance to face charges of fraudulent schemes and theft that now stretch back eight years.