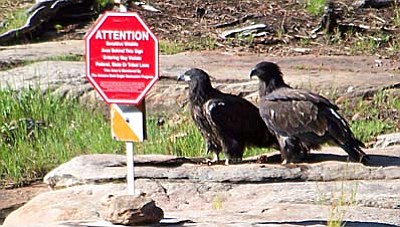 The Verde River eagles that spent their summer up north have returned to the Valley this month to begin their breeding season. Closures are in effect, and residents are asked to avoid disturbing nesting sites. Photo by nestwatcher Dave Janssen/AGFD
Stories this photo appears in:

Roads closed; birds have returned for breeding season
VERDE VALLEY - As we humans are scurrying about this time of year, gathering items to share with our loved and preparing to a new year, the bald eagles that call the valley home are doing likewise.