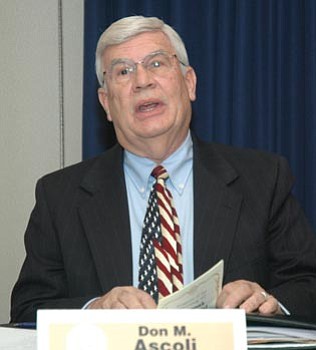 Don Ascoli, one of 11 Republicans selected to cast an Electoral College vote for Mitt Romney, explains Monday how he believes questions remain about the legitimacy of the birth certificate produced by Barack Obama. All totaled, three Arizona electors said as they were casting their votes that they have doubts about Obama's legal qualifications to serve. (Capitol Media Services photo by Howard Fischer)
Stories this photo appears in:

Some still question Obama's citizenship
PHOENIX -- Arizona's 11 Republican electors formally cast their votes Monday for Mitt Romney -- but not before three of them, including the state party chairman, said questions remain about whether Barack Obama is a natural born citizen.