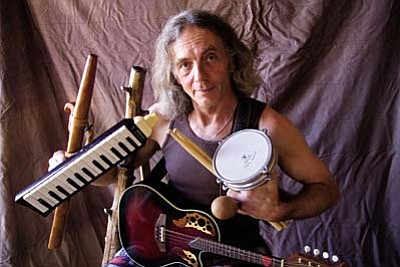 Dave Rentz plays Bent RiverJuly 14Dave Rentz and His Really Big Show return to Bent River Books & Music after a too-long absence. Never content to rest on his laurels, Dave continues to evolve as a musician, entertaining the crowd with his unique take on percussion, mandolin and guitar. He will perform 6-8 p.m. Bent River Books & Music is located at 1010 N. Main St. in Old Town Cottonwood. Contact (928) 634-8332.
Stories this photo appears in:
BC Farmer's Market restarts July 11Beaver Creek Farmers' Market at the Ranch House Restaurant will be closed July 4.Check for more listings!