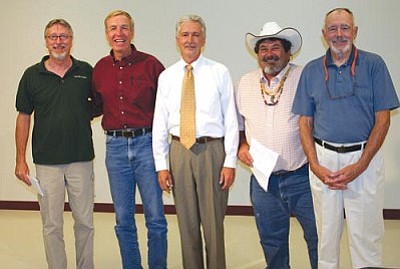 From left, moderator Steve Ayers, candidates Tom Thurman, Martin Pangburn and John McReynolds and BCRC President Bob Burke get chummy after the debate. Burke said the organizations plans a general election debate among the winner of the GOP primary, independent Buck Buchanan and unaffiliated Wes Lance.
Stories this photo appears in:

District 2 contenders spar before GOP primary
The styles were different if the views of major issues were similar. However, when concerns came closest to home, the Republican candidates for the county supervisor seat in District 2 had very distinct approaches.