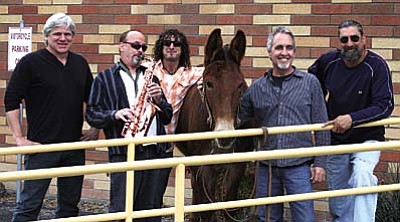 Knuckleheads play Clarkdale Concert in the Park this weekendJuly 14The Knuckleheads will perform 7-9 p.m. at the Clarkdale Town Park gazebo located at 1001 Main Street, Clarkdale. This concert is free to the public. Self-proclaimed "backwoods boogie-woogie R&B" band, the Knuckleheads, feature five of the Verde Valley's key crooners, including guitarists Gary Morgan and Manny Inigo, bass player George Gehlert, drummer John Tenny, and sax aficionado Michael (Shorty) Reed. The park is located in the center of the town's historic district on Main Street, between 10th and 11th Streets. For additional information please contact Clarkdale Parks and Recreation at (928) 639-2490 or by email: dawn.norman@clarkdale.az.gov. Concert information can also be found online at: www.clarkdale.az.gov/concerts_in_the_park.htm.
Stories this photo appears in:

Sedona Hummingbird FestivalAug. 3-5The Hummingbird Society is sponsoring the Sedona Hummingbird Festival at the Sedona Performing Arts Center on the campus of Sedona Red Rock High School. Check for more listings!