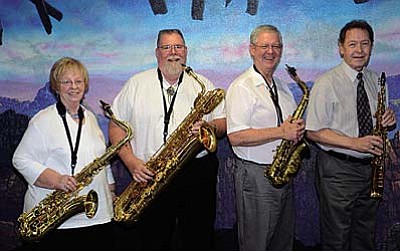 Cool Sax for a Hot JulyJuly 22The group Sax Appeal will present "Cool Sax for a Hot July" at 2 p.m. in the next installment of the Rainbow Acres Fine Arts Series of concerts. Free to the public. Light refreshments will be served following the performance.The concert is in the Palmer Community Center, 2120 W Reservation Loop Road. For more information, contact Margie Beach at (928) 567-5231 or margie@rainbowacres.com.
Stories this photo appears in:

Craft Show and Sale at Post 25Aug. 4 & Sept. 8Cottonwood American Legion Post 25 will be hosting a Craft Fair and Sale from 9 a.m. until 3 p.m.Check for more listings!