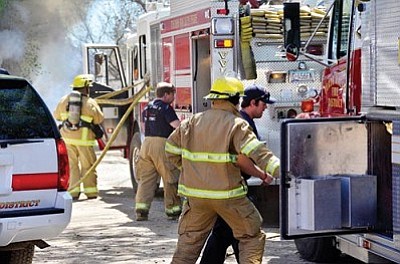 VVN/Jon Pelletier
Prop. 117 will affect the budgets of many of the county's smaller fire districts for years to come by imposing limits to the growth in assessed valuation of their districts, on top of the Legislature's previously imposed rate cap. Here, Verde Valley Fire District crews respond to a fire in Bridgeport on March 31, 2011.

Stories this photo appears in:
Proponents tout its simplicity and stability
VERDE VALLEY - In Proposition 117, the voters of Arizona will get a rare opportunity to simplify their property tax system.