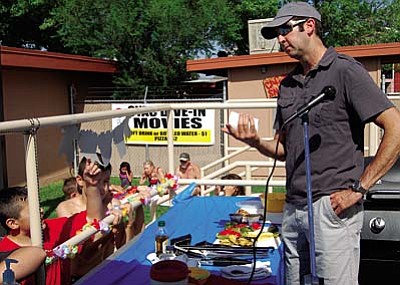 Swim N BBQ Luau at Cottonwood PoolAug. 11A Swim N BBQ Luau for children is planned at the Cottonwood outdoor pool from 2 to 4 p.m. The pool is located at 100 Brian Mickelsen Parkway. There will be swimming, music and games. This special event will focus on the Let's Move and Fit Kids themes of healthy living for children and their families. It's all free, but tickets are limited. Tickets are available at the Cottonwood Parks and Recreation Center. For more information call (928) 639-3200 or email Mayor Joens at mayor@dianejoens.com. The Cottonwood Recreation Center is located at 150 S. Sixth St. in Cottonwood.
Stories this photo appears in:

Verde Natural Resource meetingAug. 10The Board of Supervisors of the Verde Natural Resource Conservation District now meets on the second Friday of each month at 9 a.m. at the Camp Verde Chamber of Commerce, 385 Main St., Camp Verde. Check for more listings!