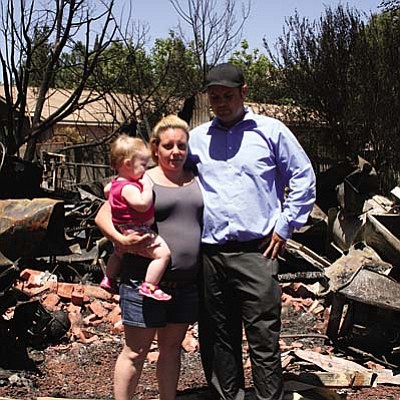 Fund-raiser to help fire victimsJune 19The residents of the greater Sedona area will come together in a collective gesture of community solidarity to contribute to the fund-raising efforts for the three families who lost their homes and possessions to house fires in May. The event will take place on the parking lot at the Outlet Mall in the Village of Oak Creek and inside Canyon Moon Theatre, also in the outlet mall. The event is being touted as, "Sedona Cares – Fires Fundraiser "Day of Action." All of the proceeds and donations for the day will be split equally between the three families who lost their homes. Additional fund-raising events are taking place in Sedona and VOC on June 16 and 17 as well as a special fund-raising golf outing on the 29th. Complete information on all the fund-raising activities can be viewed at www.SedonaFiresFundraiser.com.
Stories this photo appears in:
Free Movie Night with DemocratsJune 14Democrats of the Red Rocks (DORR) will sponsor its Free Movie Night on Thursday at 6 p.m. at the Sedona Public Library, 3250 White Bear Road in West Sedona.Check for more listings!