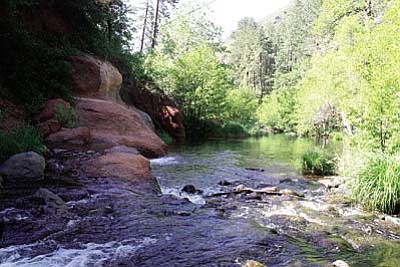 Oak Creek Watershed cleanup plannedJune 23The Oak Creek Watershed Council (OCWC) in partnership with other community groups is sponsoring a cleanup of three one-mile sections of Oak Creek: areas around Midgley Bridge, Chavez Crossing and Mormon Crossing.A volunteer force of 35 to 40 people is being assembled for the cleanup event from the Oak Creek Watershed Council membership as well as Keep Sedona Beautiful, Verde River Basin Partnership, Friends of Verde River Greenway, Sierra Club Water Sentinels, Verde Watershed Association. Other environmental groups are also invited to participate.For more information about how residents and visitors can learn more about the stewardship of Oak Creek, visit www.oakcreekwatershed.org or www.oakcreekcanyonaz.org.
Stories this photo appears in:
Awake & Aware with Dr. MartaJune 30Dr. Marta Adelsman hosts the Awake & Aware Class, "Awakened Parenting and Grandparenting," from 1 to 2 p.m. at the Healing Arts Center, 753 N. Main St., Cottonwood. Check for more listings!