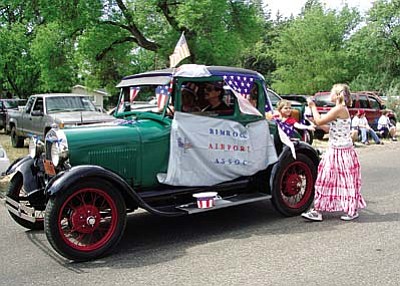 Beaver Creek Fourth of July Parade & CelebrationOn Independence Day in Beaver Creek, the celebration starts at 7 a.m. with a Kiwanis donation pancake breakfast. The parade will leave the Ranch House in Lake Montezuma at 9:30 a.m. and travel Montezuma Avenue to Sycamore Park (4170 E Beaver Vista Road) next to the bridge. This year the Grand Marshals are Michael and Sheila Van Dyke, who invite all to join them in celebrating Independence Day. Parade entrants (walkers, animals, vehicles, floats) can sign up at the Montezuma-Rimrock Fire Station or call 567-7428. The festivities and the noon Kiwanis Duck Race will be in Sycamore Park. For inquiries about food, display tables, entertainment and activities, please call Carol Keeton, Kiwanis Coordinator, at (928) 606-4050.
Stories this photo appears in:
Cancer survivors' annual celebration of life June 24The Cancer Centers of Northern Arizona Healthcare - Sedona Campus is sponsoring "Taming Cancer in the Wild West" annual survivors' celebration to honor individuals throughout the Verde Valley who are living with and beyond cancer.Check for more listings!