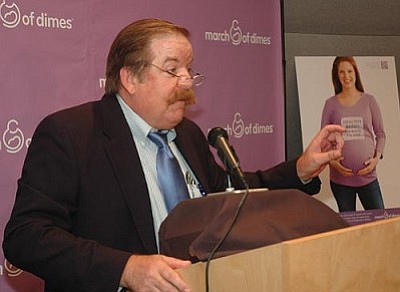 B.J. Johnson, an obstetrician with the Arizona Perinatal Trust, discusses new efforts Monday to reduce the number of babies born before full term -- or at least before 39 weeks. (Capitol Media Services photo by Howard Fischer)
Stories this photo appears in:

Doc warns against setting birth dates for convenience
State health officials and their allies launched a campaign Monday to convince pregnant women to leave the bun in the oven a bit longer.State Health Director Will Humble said that having women go at least 39 weeks -- if not a bit longer -- would go a long way to reducing birth defects. And obstetrician B.J. Johnson said, "Too often we have women who want to have their baby on a certain day because the grandparents are in town." And they even request to set the birth date to match the number on a sports jersey.