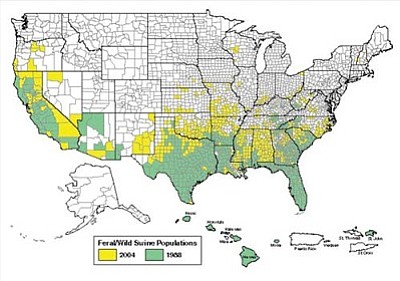 Courtesy USDA
This map from the U.S. Department of Agriculture shows the steady progression of feral pig populations across the country. The herd now roaming south of Camp Verde began shortly after this map was drawn.
Stories this photo appears in:

Four-legged disaster headed to a watershed near you
Sometime in fall 2004 a semi tractor-trailer rolled up to a stock pen at the EZ Ranch outside of Cordes Lakes and offloaded an unspecified number of wild Russian hogs, skimmed off the plains of West Texas.