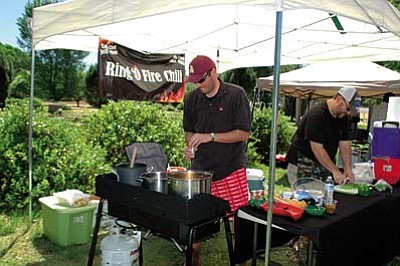 Chili cooks and tasters needed The fourth annual Cornville Chili Cook-Off is scheduled Saturday, June 2, 10 a.m. until 2 p.m. at Windmill Park. It's time to get cookin'.Dazzle everyone with your specialty, watch the preparation, taste the chili and vote for your favorite. It all takes place in Cornville.The chili cook-off is sanctioned by CASI, the Chili Appreciation Society International, Yavapai Chili Society.To register, contact Lois Hook at 649-3190 or loishoo@cableone.net Last year, Lois says about 15 cooks joined the Cornville Cook-off competition. All the proceeds return to the Cornville Community Association. A small fee of $3 is charged for a tasting cup and spoon. Lois says you may taste as much as you like. But be sure to vote for your favorite.There are two awards. The People's Choice award is granted to the cook that gathers the most votes from the general competition, but special judges chose the Competition Red Chili is awarded to the Red Chili Chefs contestants.There is a $10 entrance fee for Red Chili Chefs only, but no entrance fee to enter the People's Choice competition.
Stories this photo appears in:

Camp Verde Women TakingAction meets May 24Camp Verde Women Taking Action may assist with the Fourth Friday events and we need your ideas! Check for more listings!