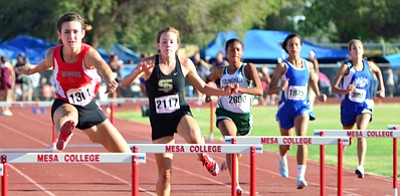 Torey Braly leaps over a hurdle in a 300-meter race at the 2012 state track meet. Braly won both hurdle events and placed in two others, accounting for 26 points as a senior captain on the championship team. She's also the greatest soccer player ever to wear a Mingus uniform. Female athletes like Braly with undeniable jaw-dropping talent have aided a push for equality since Title IX passed 40 years ago. VVN/Sean Morris
Stories this photo appears in:

Several cover stories from prominent sports publications, including Sports Illustrated, have commemorated 40 years since the passage of Title IX with great insight on the cultural impact of sports and how females fit into the current athletic landscape.Since I cover both boys and girls sports at the Verde Independent and the Camp Verde Bugle, Title IX is something I've thought about a lot and I feel I have a good perspective on the current state of gender equality in sports.