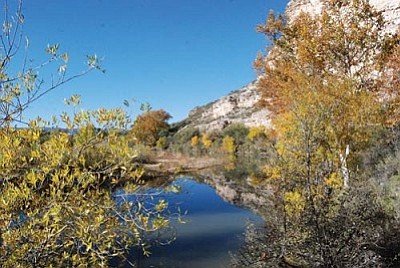 VVN/Steve Ayers
The National Park Service spent 10 years studying the flow of Beaver Creek where it passes by Montezuma National Monument before filing an instream water rights claim earlier this year. The water right claim is designed to preserve the flow so it can provide for fish, wildlife and the riparian habitat within the monument boundaries
Stories this photo appears in:

In 1985, the National Park Service filed a claim in Arizona's statewide water rights adjudication case for an unspecified amount of surface water, to serve and preserve Montezuma Castle National Monument. In February 2012, they filed what is known as an instream water right claim.Nov. 7, at 6 p.m. in the Beaver Creek School auditorium, NPS Superintendent Dorothy FireCloud will answer questions about the claim.