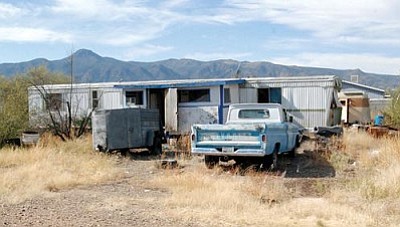 VVN/Steve Ayers
The Town of Camp Verde is soliciting for private contractors to clean up weeds and debris from properties deemed a nuisance and for the demolition of buildings deemed dangerous and unsafe. The town currently has an inventory of four dangerous structures and 10 nuisance properties to cleanup.
Stories this photo appears in:
The Town of Camp Verde's campaign against code violations and trashed properties will continue, unabated.Over the last month the Town has sent out two requests for proposals -- solicitations to companies interested in doing the clean up and demolition work on properties in which the owners wouldn't or couldn't do the work themselves.