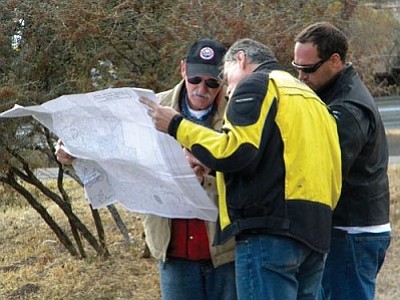 VVN/Jon Hutchinson
Bill Stafford (cap) identifies some trails on the map during National Trails Day at Sycamore Park in Lake Montezuma.
Stories this photo appears in:
The Beaver Creek area celebrated National Trails Day Saturday with a yummy Dutch Oven Cookout at Sycamore Park. Volunteer cooks served up enchiladas, beans, peach cobbler and cowboy coffee.The Trails Day celebration was intended to be a fundraiser, but also a public outreach to identify trails around the area that could be formalized and signed.