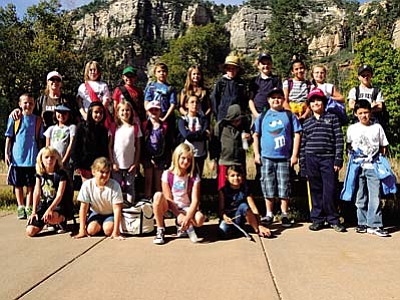 MVP students to raise money for African water during paradeDec. 1This Saturday at the Christmas parade in Cottonwood, our community will have the chance to help MVP fourth graders to raise money to buy a foot pump for families in Africa who don't have access to clean water. For the past 5 weeks they have been studying water and its vital importance to our welfare. They have decided to end their unit with a service project to raise money for the foot pump. If you would like to donate, students will be walking alongside the float collecting donations to purchase the pump. Keep your eyes peeled, and have donations ready. Thanks for the support from our community.
Stories this photo appears in:
Camp Verde VFW Post 6739 offers free lunch for a child's toyDec. 1, Dec. 8, Dec. 15Camp Verde VFW Post 6739 is offering anyone a free lunch in exchange for the donation of an unwrapped child's toy as part of the Marine Corps Reserve's Toys for Tots Campaign. Check for more listings!