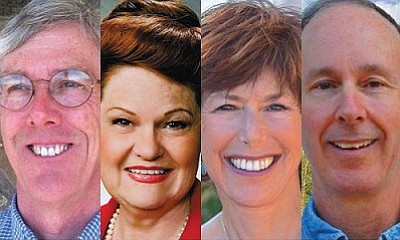 Vying for the two state representative seats for Legislative District 6 are (from left) Democrat Doug Ballard, Republican Brenda Barton, Democrat Angela LeFevre and Republican Bob Thorpe.
Stories this photo appears in:

Previous to last year's redistricting, all of Yavapai County was in District 1. But new district boundaries have split off the eastern portion of old District 1 and joined it with portions of Gila, Navajo and Coconino counties, including the communities Flagstaff, Williams, Payson, Holbrook and Snowflake, to form the new District 6.