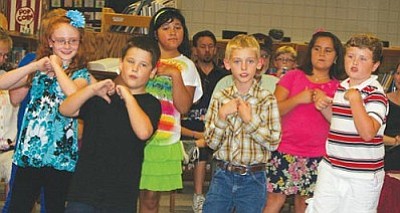 VVN/Raquel Hendrickson
Selected fourth grade choral students from Camp Verde Elementary School marked Patriots Day by performing for the Governing Board Sept. 11, including the songs Respect and Responsibility.
Stories this photo appears in:

Camp Verde, Beaver Creek eye cost of Common Core
Camp Verde is already behind. In education technology, Camp Verde Unified School District trails many districts in the state. That has been a priority issue for a while. What is pushing that issue now is the looming shadow of Common Core standards.