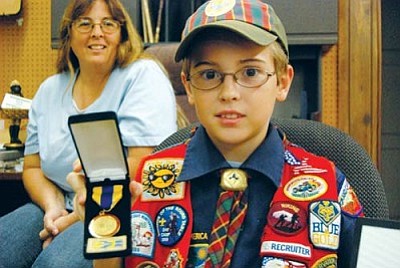 VVN/Steve Ayers
Camp Verde Cub Scout Bruce Turner, here with his mom Sharon, was awarded the Medal of Merit from the Boy Scouts of America for helping save a friend who couldn't swim and had fallen into a chilly Prescott lake last spring. The Town of Camp Verde will further recognize his action on Oct. 3 at a meeting of the Town Council.
Stories this photo appears in:
Camp Verde boy earns Medal of Merit
Recognition for a job well done is one of the tenets of the Scouting program.