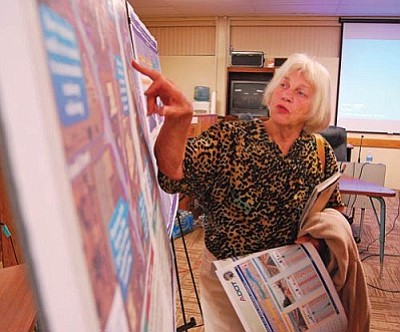 VVN/Bill Helm
Helen Zimmerli of Camp Verde looks at the results of the Town's business corridor study Tuesday night in council chambers. Zimmerli was one of several in attendance at the Arizona Department of Transportation's presentation.
Stories this photo appears in:

ADOT, Jacobs present business corridor study results
Less than a week ago, Vamshi Yellisetty presented the results of a study of the Town of Camp Verde's business corridor to members of the Town Council. On Tuesday, Yellisetty again spoke in the council's chambers, presenting that same study to the public and to Arizona Department of Transportation representatives. ADOT and the Town of Camp Verde are working toward an improvement plan for the business corridor of Finnie Flat Road, between State Route 260 and Main Street.