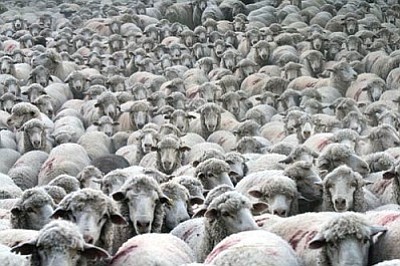 Approximately 2000 sheep approach the base of the mountain on the Salt River, where the first count for the Heber-Reno trail requires them to squeeze onto the trail nearly single-file to be counted. Courtesy photo by Cindy Shanks
Stories this photo appears in:
Saturday's meeting includes exhibit groundbreaking
The Black Canyon Trail Coalition will host a gathering for people interested in the future of the Black Canyon and Beaverhead-Grief Hill Sheep driveways at 9 a.m. Saturday at the Albins Community Center. The Center is located at 19055 E. K-Mine Road in Black Canyon City.