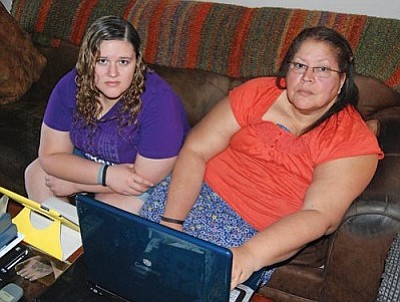 Brianna Figy, left, and her mother Angela say they have spent many hours at their computers, researching Brad's heart condition. Due to a lack of medical insurance, Brad cannot be placed on a heart transplant list until he can raise $90,000 towards the cost of surgery. VVN/Bill Helm
Stories this photo appears in:
Brad Figy of Cottonwood needs a new heart. And he cannot afford to do anything about it.Figy checked himself into the hospital on Feb. 16 with flu-like symptoms and fluid build-up in his chest. On Feb. 21, after a series of medical tests, doctors told Figy that his heart is operating at 20 percent capacity and that he has a 50 percent chance of living two years without a heart transplant.