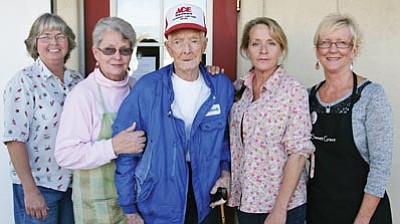 Debbie Roulette and Carlie Androus, from left, will close Sweet Grace restaurant for good on Dec. 20. Roulette and Androus will provide around-the-clock care for their 95-year-old father Archie Church, center. Also pictured, Church's granddaughter Wendy Blake, second from right, and Sweet Grace waitress Terri Gray, at right. VVN/Bill Helm
Stories this photo appears in:
Family comes first for co-owners Androus, Roulette
Sisters Carlie Androus and Debbie Roulette will close the doors of Sweet Grace restaurant for the last time.Though business has been steady, the co-owners decided that they needed to spend more time with their father, 95-year-old Archie Church of Camp Verde.