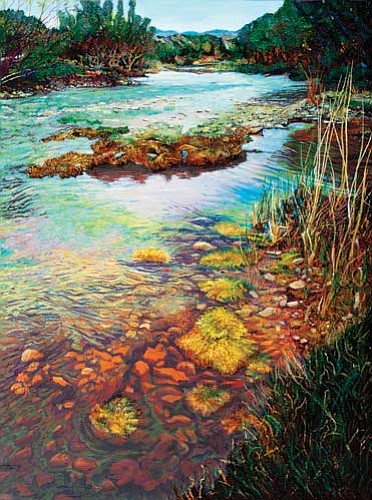 Sharron Porter's "Living River" is part of the traveling art exhibit on the Verde River, "A River Runs Thru Us." Now on its way to the state capitol, the exhibit is the result of the Verde Artist Challenge initiated by Verde Valley Land Preservation.
Stories this photo appears in:

The City of Cottonwood and the Towns of Clarkdale and Camp Verde are jointly sponsoring Verde Valley Land Preservation's (VVLP's) celebrated "A River Runs Thru Us" art exhibition to stand in the Arizona State Capitol Executive Tower lobby. The exhibit will show the entire month of January 2014. On the face of it, this is a nice piece of news. Drilling deeper, the significance of this act could be huge.