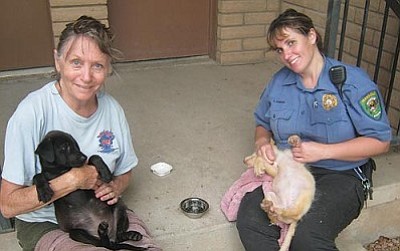 Courtesy photo
Kathy Davis, Camp Verde Animal Control volunteer, and Lisa Diacik, Animal Control Officer for the Town of Camp Verde, from left, hold two pups found under twin bridges recently. "They were in such bad condition. One almost didn't make it, she was so sick with ticks, wasn't walking or eating," Diacik said.

Stories this photo appears in:
On July 15, while taking an afternoon walk, two Camp Verde teenagers found five neglected young dogs discarded under twin bridges. The teens, Camp Verde residents Javier Valdez, 16, and his girlfriend Emma Ehresman, 15, immediately turned the pups over to Animal Control.