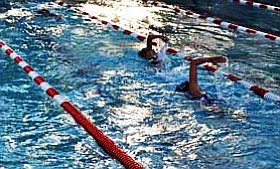 The Clippers warm-up in the pool by swimming laps at the beginning of practice. The swim team has its' first meet of the season on June 8, the Jelly Bean Meet. This meet helps get parents and swimmers a to competition. VVN/Travis Guy
Stories this photo appears in:

Upcoming Jelly Bean Meet gives new swimmers, parents chance experience meet
Now that school is out, the Cottonwood Clippers have returned to the pool to begin another summer of competing.