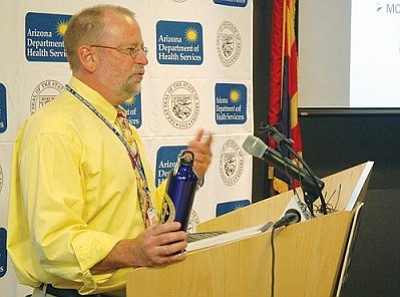 State Health Director Will Humble details how a new web site will enable those who need hospital care to shop not only for the best price if they are uninsured but also see how facilities stack up against each other in quality of care -- and even how likely a patient is to get an infection.  (Capitol Media Services photo by Howard Fischer)
Stories this photo appears in:

A new web site lets you compare among more than 100 hospitals around the state for how likely it is you'll develop an infection, a bed sore or have a surgical instrument left inside you. It even rates the hospitals on your prospects of dying while getting care for something that rarely results in death.