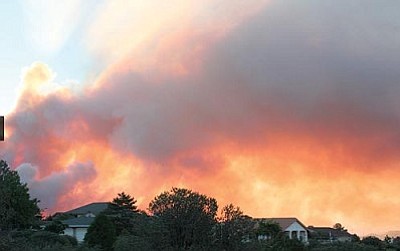 Courtesy photo
The Doce Fire burning northwest of Prescott has forced the evacuation of several neighborhoods near the Granite Mountain Wilderness. Battling the 6,379-acre fire may cost upwards of $1 million.
Stories this photo appears in:

County residents near Granite Mountain Wilderness evacuated
There are 614 Forest fire crewmembers working the Doce Fire 8 miles northwest of Prescott, burning in the Granite Mountain Wilderness. A Verde Valley fire engine with a crew of four and Sedona Chief of Support Services Scott Schwisow also have been called up.Gov. Jan Brewer has declared an emergency in Yavapai County to free up funds.