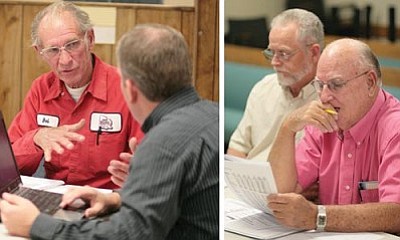 VVN/Bill Helm
Above, Camp Verde Mayor Bob Burnside (left) asked Town Manager Russ Martin, "When you increase wages, you increase the amount of money that goes into Worker's Comp. Does this budget include this?" At right, Charlie German, foreground, incoming mayor for the Town of Camp Verde, and Brad Gordon, incoming Town councilman, review the tentative 2013-14 budget at Wednesday's work session.
Stories this photo appears in:

A town cannot balance its budget in one evening. But after Wednesday's work session, the Town of Camp Verde is headed in the right direction. "Being able to recognize our ability to find a way to balance a budget when it has been so hard in the past few years is kind of exciting," Town Manager Russ Martin said.