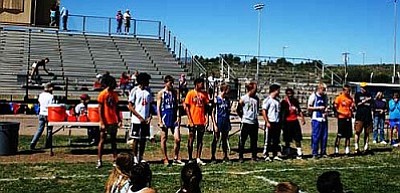 The boys senior heat at the Camp Verde Invitational. Senior Joey Benson finished ninth in his heat and 23rd overall. VVN/Jon Hutchinson
Stories this photo appears in:

Benson, Yocum top placers for Camp Verde, Valdez makes season debut
Camp Verde's cross-country squad hosted its first meet of the season, a 10-team race with a typical finish from one of the members of the girls' team, and on the boys side, the return of a runner.