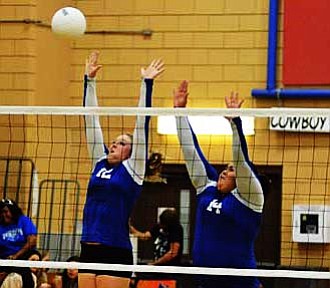 Dusty Dowdle (left) and Viola Logston reach for a block during a recent home match. In the Cowboys' most recent match, against North Pointe Preparatory, the girls were swept in three close sets. VVN/Travis Guy
Stories this photo appears in:

Just as it looked as if the Camp Verde volleyball team was going to be able to string together three conference wins, the Falcons from North Pointe Preparatory visited Camp Verde and handed the Cowboys another loss.