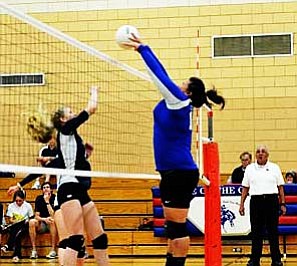 Junior Viola Logston hits the block against the Spartans. Logston did not see as many minutes as she usually does, but still did her best to swing the match in favor of Camp Verde. The Cowboys dropped the contest in three sets, 25–15, 25–14 and 25–18. It was Camp Verde's second loss in a row. VVN/Travis Guy
Stories this photo appears in:

Camp Verde's volleyball team has hit a rough patch as they try to reestablish their footing and find some consistency in their roller coaster of a rebuilding season.