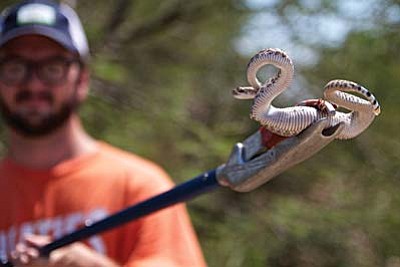 Jeffrey Hill, field agent for Rattlesnake Solutions, hoists a baby rattlesnake captured at an Ahwatukee home before releasing it in a desert wash. The state requires him to let captured snakes go within a mile of where they are caught. (Cronkite News Service Photo by Peter Haden)
Stories this photo appears in:

PHOENIX - In the shade of a fountain gracing the front yard of an Ahwatukee home, Jeffrey Hill faces two coils: one a garden hose, the other a Western diamondback rattlesnake measuring barely a foot long.