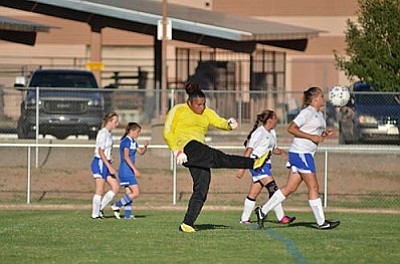 Senior Adilene Carrillo kicks the ball out of her goal area against Chino Valley. Carrillo and her backfield only allowed the Cougars four shots on goal, compared to Camp Verde's 13. The Cowboys tied the Cougars 0–0 after two overtimes. VVN/Travis Guy
Stories this photo appears in:
Many of the shots were close to getting by the goalie, but following the second overtime, the Cowboys girls' soccer team had to settle for a tie in their first Division-IV, Section-II game of the season, against rival Chino Valley.