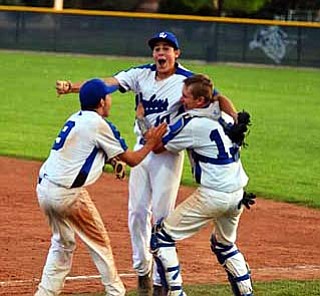 Junior Coy Dugan and his teammates celebrate after holding on the their 1-run lead and beating Williams 6–5. Dugan caught the game winning out. VVN/Travis Guy
Stories this photo appears in:
Cowboys baseball rallies around hurt teammate to edge Williams, split games in double header
When junior Ezra Church was helped off the field and taken to the hospital, his team rallied around him and gutted out the 6-5 win in extra innings to split games in their double header against Williams High School.